Ellis, Kansas
Ellis, Kansas is rural America--A town with a rich past. This town nestles in the curve of Big Creek as it crosses the Kansas prairies. Beautiful park, friendly people and the mystic makes this a place you will want to visit. Campgrounds, motel, several restaurants and a nine-hole golf course are available.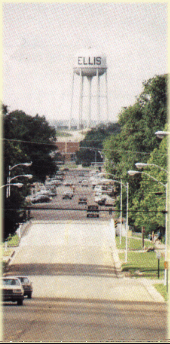 Enjoy a dazzling sunset from the famous Indian lookout point, Round Mound, a short drive southwest of Ellis. The Arien Hills, sometimes described as the Kansas Ozarks, provide a look at the unspoiled land and natural beauty of the rolling hills north of Ellis.
Ellis, a place where you'll feel like a welcome visitor, not a tourist; a place where you can still experience America like people remember it. American dreams live on in Ellis, a peaceful community surrounded by rural farmland and just minutes from Hays, the major city in northwest Kansas.
"Ellis is a city with a rich past and a promising future. A historic town where old meets new in an atmosphere of country hospitality blended with all the conveniences of city services."
About the Past ....
The Kansas Pacific Railroad established a water station on the tracks at the site of present-day Ellis in 1867, and later purchased the site for $1200 through the Homestead Act. An officially recognized post office was established on June 27, 1870. The first church came to Ellis in 1874. The year 1873 saw the establishment of the first school. Beginning in 1875, Ellis became a shipping point for cattle herds, driven up from the south, for nearly five years. On January 10 1888, the City of Ellis was incorporated by law as a Third Class City. In 1896, the women's "Law and Order Committee" slate won the local election, and Ellis' all-woman council and a lady mayor became one of the first such groups in the United States.
In the late 1800's Wyatt Earp and Buffalo Bill Cody were seen often in town. John Henry, a UP train dispatcher in Ellis, invented the electric streetcar in 1882. Early Ellis residents, Walter and Roy Cross, developed the "Cross Process," a method of converting kerosene, natural gas, oil or fuel oil into gasoline that was used widely across the U.S.. Walter P. Chrysler, who grew up in Ellis and learned about mechanical repair and machinery in the Ellis UP shop, used this knowledge to found the automotive giant, the Chrysler Corporation. Walt Disney, the late producer-animator and founder of the Walt Disney Studios, also had connections to Ellis.