category : Recreation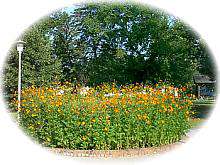 City Parks - Geneva's main city park is located at 13th and E Streets. The park contains new handicapped accessible playground
equipment, ball fields, new tennis courts, a sand volleyball court, an outdoor swimming pool, and picnic facilities. Geneva also
has four neighborhood mini parks located throughout the city.
Golf - Geneva has a
9-hole, grass green, country club golf course.

Swimming - The Geneva Municipal Swimming Pool, located at 1400 E Street, is open to the public. For more information, call (402)
759-3109.
Movies - The Rialto Theatre, located at 162 N. 9th Street in Geneva, is operated by a staff of volunteers. Movies are shown only on
Saturdays and Sundays. Call (402) 759-3634 for current shows.
Hunting - Fillmore County plays host to hunters and sportsmen throughout the year.
Events - Community festivals, craft shows, the Fillmore County Farm & Home Show and the Fillmore County Fair are all annual events.
Come visit us in Geneva, Nebraska