category : Museums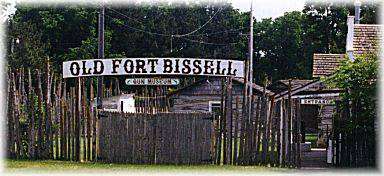 Fort Bissell was built in 1872 on the land of John Bissell, while roving bands of Indians were still in the area. It was located on a bend of Bissell Creek 2? miles west of the Coop Refinery. It was protected by steep banks on three sides, the north, south, and west. The Fort was constructed on cottonwood logs, sharply pointed on the ends above ground. Inside, there was a cabin for provisions and a lean-to on the north wall which was used for shelter from the elements.

Fort Bissell was never a Federal Military Post, but was built by settlers as their means of protection against the Indians. Many were Civil War veterans, however, and when they gathered at the Fort during an alert, they would throw out their picket lines and advance scouts. The fort was kept stocked with provisions at all times, so that when ruders warned the settlers, all they had to do was ride for the Fort.

In 1878, after the Cheyenne Indian Massacre in Decatur county in which 40 settlers were killed, the Fort was torn down, as it was decided that the last of the Indian troubles had beed seen in this area.



Hours: May thru September, Tues-Sat. 10:00 a.m. to Noon, 2:00 p.m. to 6:00 p.m.
CLOSED-Sun.,Mon. and July 4th.
Address: Located in Phillipsburg Park, Highway 36
Phone: 785-543-6212


EXHIBITS

In addition to the stockade, the museum shows life in Phillips County through articles and exhibits as varied as a sod house, doctor's office, barber shop and land office:
The Lutjeharms Cabin was built in 1872 of walnut logs on Prairie Dog Creek near Woodruff by William Stanley and moved to Fort Bissell in 1961. It now houses the Kingery gun collection.
Kingery Gun Collection started in 1878 by William Kingery. 200 years of American Firearms, from 1740, along with history of homesteaders who brought their guns to Kansas for protection against the Indians as well as hunting of the buffalo. The collection has been on public display since 1936.
The cabin built by Fred Albright, also in 1872, was located on Cactus Creek northwest of Logan, and now houses early furniture.
The 1887 Dayton School District No. 97 one-room school was originally located 12 miles northwest of Phillipsburg. The building still has much of the original schoolroom furnishings.
An 1885 store building from Woodruff was moved here in 1961 and renamed the "Fort Bissell Mercantile."
A sod house of the type used by early pioneers now houses the museum's collection of home furnishings.
The depot from Glade now houses railroad memorabilia and is a starting point for visitors. The section car was used for many years by C.R.I.P. (Rock Island Railroad).
Tours by appointment other times of the year.
Come visit us in Phillipsburg, Kansas