category : Forts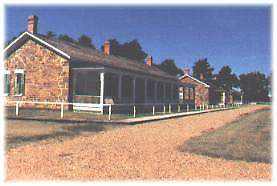 Fort Larned was established in 1859 as a base of military operations against
hostile Indians of the Central Plains, to protect traffic along the Santa Fe Trail and as an agency for the administration of the Central Plains Indians by the Bureau of Indian Affairs under the terms of the Fort Wise Treaty of 1861. Originally, the Army posted dugouts and tents along the Pawnee River. The post name was changed to Camp on Pawnee Fork, then it was changed to Camp Alert because there was need to be alert for Indian raids. The post was later moved and renamed to Fort Larned.

With nine restored buildings, it survives as one of the best examples of Indian Wars period forts. Today it is operated as a National Historic Site by the National Park Service. Most of the buildings including: barracks, commissary, officers quarters
and more, are furnished to their original appearance. Fort Larned National Historic Site takes visitors back to this turbulent era in our nation's history.

Visitor Center/Exhibits:The visitor center has a museum, introductory slide show, library, rest rooms and bookstore. There is a nature trail and a detached site where one can still view ruts left in the ground from wagons that traveled down the Santa Fe Trail.

Programs/Acitivities:When available, living historians staff the infantry barracks, post blacksmith

shop, hospital, blockhouse, commissary and officers quarters. During the summer season, there are weekend demonstrations providing a more detailed look at life in the 1860s. Other special activities are scheduled from April to December.
Accessibility: The visitor center is handicapped accessible. Accessibility to the other historic buildings varies. There is a videotape of the fort available in the visitor center for those people who cannot make the walk.

Admission: Free
Hours: The site is open daily, year round, from 8:30 AM to 4:30 PM Central time, and is only closed on major holidays. See Operating Hours & Seasons
Address: South side of KS Highway 156, six miles west of Larned.
Phone: 620-285-6911
Our Email: fols_internet@nps.gov
Our Website:www.nps.gov/fols/
Hours, Seasons: May 29th-Sept 5th, 8:00am. to 6:00pm. The remainder of the year 8:30am to 5:00pm. Closed Thanksgiving Day, Christmas and New Years Day.
Come visit us in Larned, Kansas