Frederick's Fantastic Oyster Fry Festival
Starting date:

Event# 580-335-2126
Event Details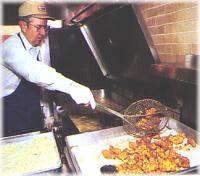 One to have fun --- this is an all day event.

In 1990 the Frederick Chamber of Commerce and Industry revived the Manitou Oyster Fry. Frederick, Oklahoma, continues this traditional Oyster Fry on February 25th, 2012 at the Prather Brown Center, located at 211 South 13th Street. Ticket numbering begins at 3 p.m, serving at 4:00 p.m. beginning with ticket number one. The menu includes homemade cole slaw, potato chips, bread, and iced tea, coffee, and, of course, oysters! Some hardy visitors choose to eat their oysters raw, but most would rather have them breaded in Manitou's original recipe and fried to perfection!



Other activities are the Arts & Crafts Show, starting at 11 a.m - 7:00 pm There are two craft show locations: Down the street at the Frist United Methodist Chruch at 12th and Grand, and at the Gray Gish Event Center at 126 N Main St. Admission to the Arts and Crafts show is free and open to the general public. Many visitors come early to do some shopping, antiquing, grab some lunch at a local restaurant, visit Hackberry Flat Wetland, and then tour the Pioneer Heritage Townsite Center. Some even stay overnight after eating their fill of oysters!


Frederick's Fantastic Oyster Fry Festival
Address :
Prather Brown Cafeteria, 211 S 13th St.
Frederick
OK
Phone :
580-335-2126
(Always call and confirm events.)
Web Address :
http://www.frederickokchamber.org/oysterfry.htm
Admission Fee :
Free to browse; charge for meal
Festivals
Attractions and Upcoming Events
Things to do near Frederick, OK