category : Historic Barns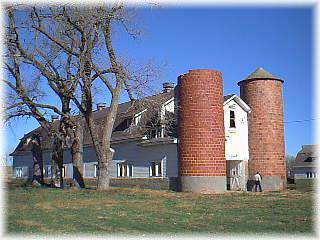 Four barns still remain that were part of the U.S. Indian Industrial School (1844-1934) in Genoa, Nebraska. The school was self sufficient raising their own beef and dairy cattle and maintaining gardens for their food. The horse barn is privately owned and is located directly behind the Manual Training Building that remains today as a historic landmark and is used as a museum.
The other barns are privately owned also. The dairy barn with the two original brick silos is of significant interest and can be visited with a tour guide. The ground level of the barn now houses a private collection of John Deere equipment that the owner is proud to share with visitors. The upper level is a vast loft that holds as many memories as its capacity to store thousands of square feet of hay. One such fascinating artifact is the names of hundreds of the Indian boys that are carved on the wood slats of the remarkably skilled roof frame.
For an informative tour contact the Genoa Historical Museum.

Address: 402 Willard Avenue
Phone: 402-993-2330
Genoa Museum hours: Friday, Saturday, and Sunday, 2:00 to 4:30 pm, and by Appointment.
Come visit us in Genoa, Nebraska