category : Historic Barns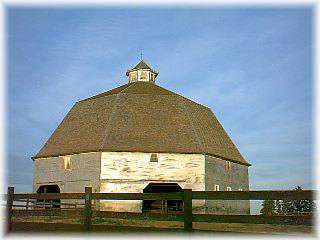 The Uehling Barn is located on a hill overlooking the town of Uehling. Listed on the National Register of Historic Places, the prominence of the structure and its location have made it a local landmark since it was built in 1918. The wood-frame barn is one of a small number of "round" barns in Nebraska.
Its builder, Frank Theodore Uehling, was the son of Theodore and Catherine Schwab Uehling, emigrants from Germany. Theodore platted the town of Uehling in 1906. After attending the University of Nebraska College of Agriculture, Frank Uehling established a stock farm, which became a model and the center of pure-bred livestock raising in Dodge County.
Come visit us in Uehling, Nebraska