Gulf Coast Belles Christmas Belles Pageant
Event Details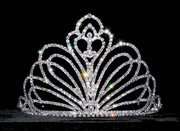 The Gulf Coast Belles Christmas pageant will be held on December 4th at MGM High School in Semmes. Start time 10:00 a.m. $65 Entry Fee. Each age division will be awarded (1) Queen, (3) Alternates, (1) Prettiest Hair, (1) Prettiest Smile, (1) Prettiest Dress, (1) Most Personality, (1) Contestant's Choice. The $65 fee covers entry into each of these categories, as well as entry into the Supreme Title categories. 4 Supreme Titles will be awarded. We will also award (1) People's Choice award for every two age divisions. People's Choice award will be voted on pageant day at the admission table. $1 per vote.
We also offer a $5 referral discount for paid entries received by your referral.

Each contestant will receive a crown!!! Our Christmas Beauties will receive a 2-3" crown. Alternates will receive a 3-4" crown. Queens will receive 5" crown. Supreme Title winners will receive an 8" crown. Supremes, Queens and Alternates receive sash as well. Prettiest Hair, Smile, Dress, Most Personality & Contestant's Choice winners receive a sash. People's Choice and Sponsor awards will receive a trophy.

Pageant attire only! No smocked dresses or Sunday best. Dresses can be cupcake style, glitz or no glitz, long or short. Absolutely NO flippers, fake hair or excessive make up. Make up should be done tastefully.

We will have programs available on pageant day. You may purchase a "good luck" or "advertisement" ad for the program. Prices are as follows: Business Card size: $15; Half Page: $25; Whole Page: $50. Each contestant who sells $100 or more in ads will receive a special Christmas surprise.

We are now accepting deposits on entry fee. $25 will reserve. Deadline to have balance paid is November 20th to avoid late fee.

We are also offering a sibling discount. Pay $65 registration fee for the first child and each additional child is only $45.
Gulf Coast Belles Christmas Belles Pageant
Web Address :
http://www.gulfcoastbelles.com
Pageants
Attractions and Upcoming Events
Things to do near Mobile, AL