Harold's Corral JULY 3rd FIREWORKS EXTRAVAGANZA
Starting date:

Event# 480-488-1906
Event Details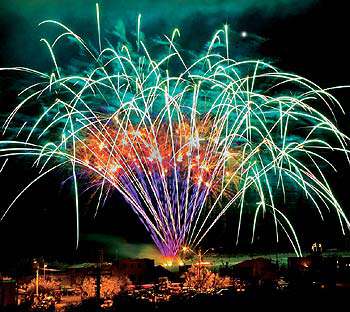 The spectacular "3rd of July" Fireworks Display takes place at sunset at Harold's Cave Creek Corral. Keeping with tradition, Harold's is planning a large party with live entertainment starting at 5 p.m. with an outside barbecue. The festive evening will also feature drink specials, prizes, face painting, and the Games2U Mobile Video Theater, a self-powered truck featuring all the top games for systems XBox 360, Playstation 3, and Wii.

Admission to the 3rd of July Fireworks Display is free, but reservations will be necessary. Call Harold's at (480) 488-1906 or visit www.haroldscorral.com.

To take advantage of Carefree Resort & Conference Center's special rates, call (888) 227-7066 or visit www.carefree-resort.com.

Harold's Corral JULY 3rd FIREWORKS EXTRAVAGANZA
Address :
6895 E. Cave Creek Road
Cave Creek
AZ
Phone :
480-488-1906
(Always call and confirm events.)
Fax :
480-488-9313
Web Address :
http://www.haroldscorral.com
Independence Day
Attractions and Upcoming Events
Things to do near Cave Creek, AZ