Harrison, Arkansas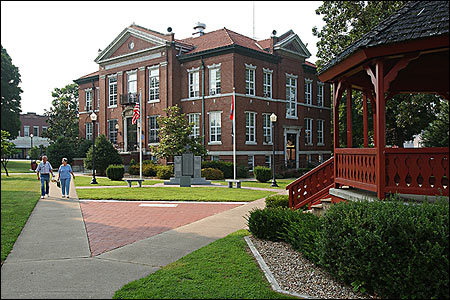 Hanging baskets of flowers and awnings accentuate old brick storefronts that line the Harrison square, which with a few adjacent buildings make up its national historic district. The flavor of the city is reflected in the Main Street Harrison Historic Walking Tour, which includes downtown parks, the historic Lyric Theater, the 1909 Boone County courthouse, the 1914 Boone County Jail, and the 1929 Hotel Seville. Downtown Harrison also embraces restaurants, an art gallery, antique stores, and other retail shops. It boasts two museums, the Boone County Historical Museum and the Marine Corps Legacy Museum. Surrounding the downtown area is an urban sprawl of contemporary dining and shopping districts.
Crooked Creek, long a popular smallmouth bass stream, forms Lake Harrison just blocks from the historic area. In the heart of the Ozark Mountains of northern Arkansas, Harrison is a great jumping off point for visiting the towering limestone bluffs of the Buffalo National River, which are the backdrop for hiking, horseback riding, canoeing, caving, and fishing. Several photo-worthy limestone caves are open for tours in the nearby area.
Harrison is located on Ark. 65 halfway between Little Rock and Branson, Mo. It is intersected east and west by either Ark. 62 or Ark. 412 and south by Scenic Ark. 7. Harrison is about 40 miles from world-class trout fishing, 52 miles from Mountain Home and 79 miles from Fayetteville.