category : Recreation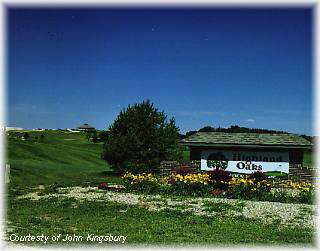 Highland Oaks Golf Course lying along the Missouri River's spectacular
bluffs, combines a distinctive design with the Ponca State Park's natural beauty. Rolling hills and heavily wooded areas show casing giant oaks make beautiful scenery. Huge tiled greens and large three level tees allow alteration of course difficulty. Par is 36 from every level, but tee and pin placements determine the difficulty. Visiting golfers say playing conditions may be the region's best.
A clubhouse, which opened in 1996, offers a beautiful view of the
course, lake and Ponca State Park.
Driving Range, Pro-shop, club and cart
rentals, bar lounge locker room, and snacks are available.
Green Fees: Weekdays - 9 holes, $8.00; 18 holes, $12.00; Continuous, $18.00

Weekends and Holidays, 9 holes, $11.00; 18, $17.00; Continuous, $22.00
Wednesdays - Ladies, Thursdays - Men, Fridays - Couples

Address: 880522 Highland Road
Phone: 402-755-4222
The course is located two miles north of Ponca and one-half mile west of the Ponca State Park entrance.
Come visit us in Ponca, Nebraska