category : Historic Churches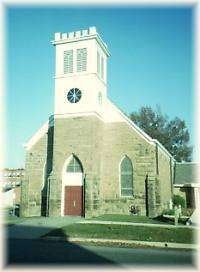 Episcopal Church - Built in 1902, the building was originally the home of the Methodist Church and remained so until 1911, when it was purchased by the Episcopal Church for the sum of $2,000. It is listed on the National Register of Historic Places.

In 1913 the church was remodeled and refurnished.
3rd and Seminole
Methodist Church - The Methodist Church traces its history in Okmulgee to 1869 when the town was first established. In 1902, the First Methodist Episcopal Church South built the stone church which now serves as home of the Episcopal Church. Following a union of the Methodist Episcopal, Methodist Episcopal South, and the Methodist Protestant churches in 1939, they became the Methodist Church. The present building, which was built in 1910, was purchased in 1940.
8th and Okmulgee
First Christian Church - Though earliest records indicate the Christian Church existed in Okmulgee prior to the turn of the century, the first actual documentation reflects a meeting of "Ladies Aid Society" at the home of Mrs. W.M. Cott, 110 North Alabama.
Construction of the present building began with the laying of the cornerstone on June 17, 1917. The first worship service was held in the new building on Sunday, May 5, 1918.
8th and Seminole
Come visit us in Okmulgee, Oklahoma