category : National Register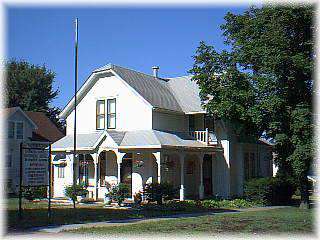 This simplified Queen Anne dwelling was built about 1888 and is listed on the National Register of Historic Places. The house is the childhood home of Dr. Howard Hanson from 1896-1917. He was a musician, educator, composer, and achieved international status. Hanson was born in the house in 1896, and his family continued to reside there until 1943. Hanson was known for his innovative methods of teaching music. He served as director of the Eastman School of Music of the University of Rochester, New York, for forty years and is credited with making the school nationally famous. Hanson' own compositions won numerous awards.
The home features beautiful stained glass windows, wood columns and a music room with the original Hanson piano. It has been lovingly restored inside and out by the Wahoo Women's Club, and is owned by the Saunders County Historical Society.
The house honors the five famous sons of Saunders County and is open for tours.

Hours: Memorial Day through Labor Day, Sunday from 2:00 - 4:00 pm, or by appointment.
Address: Corner of 12th and Linden
Phone: 402-443-3090

Come visit us in Wahoo, Nebraska