category : City Walking/Driving Tour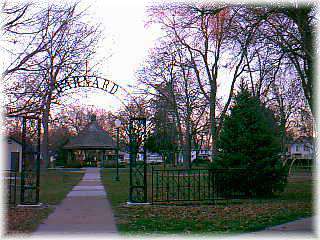 The Barnard Park Historic District is a residential district surrounding a city park in Fremont, Nebraska. The neighborhood was platted in three different sections following the initial platting of the town. The houses were built for the professional and business community and are representative of the architectural styles popular during the late nineteenth and early twentieth -centuries. The most numerous houses are Queen Annes, bungalows, and American Four-Squares. The neighborhood was one of the earliest additions to the original town site, yet very few of the houses of the 1860s and 1870s remain.
The park itself was originally the town's burying ground, known as "Green Grove Cemetery". When Ridge Cemetery was established west of the city in the late 1870s, nearly all the graves were relocated to the new cemetery. Legend maintains that one or two unmarked graves remained, hence the common name, "Dead Man's Park".
The park received its official title as an honor to E. H. Barnard who was one of the original members of the town site company in 1856. Barnard was a surveyor and platted much of the early city.
We urge you to enjoy the self-guided tour of this district which includes nearly thirty different, yet remarkable residences dating back as early as the 1860s. Please take particular notice to the cast iron lamp posts throughout Barnard Park, which vary in styles that date back to about 1920.
Should you desire more detailed information on structures in the district, the staff and volunteers of May Museum-Dodge County Historical Society will be pleased to assist you. The library and research materials at the Museum are available for use by the public.

Stop by the Fremont & Dodge County Convention & Visitors Bureau to pick up your brochure.

Phone: (800) 727-8323

Come visit us in Fremont, Nebraska