category : National Register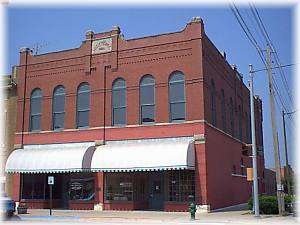 What is today known as the Ackerman Building was originally called the I.0.0.F. Temple Building. It was the first building downtown to be placed on the National Register of Historic Places.
The building housed the International Order of Odd Fellows Lodge 54 and was built in 1894-1895 by Sarah Moulton, wife of a county judge. The building was Romanesque Revival style.
It was leased out as an implement company and to Mathis Shoe Repair. A printery was also in the building.
Dances were held in the upstairs area from the 1920s up to the 1960s.
The upstairs was also used for a railroad organization.
After World War II, a Goodyear store occupied the building and later the U.S. Army Reserves used the building.

Address: 523 E. St.

Come visit us in Fairbury, Nebraska