category : State Parks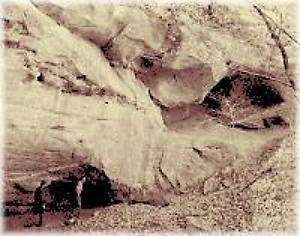 Nestled on the banks of the Missouri River on Nebraska's southeastern border, Indian Cave offers a wide range of outdoor experiences. Camping from RVs to tents, picnicking, boat access to the river, horseback trail rides, hiking, fishing, living history or communing with Mother Nature, all await at this exceptional 3,052-acre park. Indian Cave is particularly spectacular in the fall, when its 2,386 acres of timber are decked in autumn's best. And, developments here are designed to maintain the pristine nature of the area.
Indian Cave State Park is named for the huge sandstone cavity that is the main geologic feature of the
area. Although its actual age has not been determined, it is possible that Indian
Cave has existed for several thousand years. It is a natural formation, created
by silt and fine-grained sand deposits in a Pennsylvanian rock channel.
Petroglyphs or ancient Indian picture writings etched on the walls of the cave
are the only known example of their kind found in Nebraska. However, their
cultural origin and period in history remain a mystery.
The petroglyphs depict forms, shapes,
and scenes, most of the elements of nature,
mostly wildlife. The cave, with its
mysterious picture carvings, is easily
accessible to park visitors. Unfortunately,
many of the ancient petroglyphs have been
obscured or destroyed by the later gougings
of modern-day visitors. So, please help
guard the fragile history of this unique spot
and discourage anyone from defacing the sandstone.
Approximately 300 feet south of the cave is a coal shaft. It was originally
worked by a Mr. Deaver, who lived on the bottom ground and used the coal to
heat his house. The coal was very poor quality.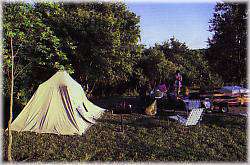 Camping & Picnicking - Indian Cave offers camping at its finest. The RV campground can handle 134 units with 30-amp. electrical hookups
(22 of which also have 50-amp.). There are two
Laundromats located at the showerhouses. Modern camping is open April 1 -
November 1, even longer, if weather permits.
Primitive camping is open year-round. The tent camping area extends among
the scenic hills. Tenters have their own showers, as well as a water hydrant
and electrical hookups. Grills and ground-level fire rings are provided.
There are Adirondack shelters along the trails for back-to-nature enthusiasts.
For horse lovers, Indian Cave has a special camping area for those who bring
their mounts to the park.
All camping is first-come, first-served, and stays are limited to 14 days in any
30-day period. Group camping is available for organizations such as Scouts,
church groups, etc.
Recreational Opportunities - Indian Cave offers exceptional experiences for campers, hikers, backpacker
anglers, horseback riders, winter sports enthusiasts, and picnickers.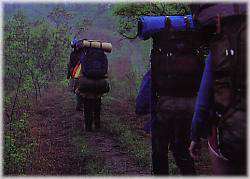 Hiking Trails - For hikers, there are some 20 miles of trails.
The north road trails are recommended for day
hikers, since there are several picnic shelters,
many tables, and toilets located along the way.
The rest of the park trails are better suited to
overnight users. However, hikers are welcome
to explore any of the trails through the parks. Overnight backpackers will find several parking lots strategically located for
their use. Adirondack shelters are situated on the ridges overlooking the park,
while more, primitive campsites are located along the hiking trails. To
accommodate large backpacking groups, there is a group camp area atop
Rock Bluff Ridge. It has three Adirondack shelters, firerings, tables, and toilets.
There is a water pump just a half mile away. However, large groups who want
to use the group camp facility should contact the park office in advance of their
trip.
Trails are numbered from 1-11 and range from easy to fairly difficult terrain. They are extremely popular with mountain bikers as well as backpackers. Trails No. 3 & 8 make up what is known as Rock Bluff Run, combining 3 miles of scenic vistas high above the Missouri River. An excellent 2 1/2 mile loop trail combines No. 9 & 10. Trail No. 9 offers a gradual climb to the top of the bluffs, then returns via Trail No. 10 which offers some spectacular views.

Equine Trails - Horseback riders will enjoy the trail ride
through the park. Rides start at the corral near
the St. Deroin Schoolhouse and cover about
three miles. Tickets are available at the Booth
and should be purchased early in the day. Park guests may bring their own horses to the park and ride the Hardwood Trail, which covers 11 miles of moderately difficult terrain. Primitive camping facilities are located at the trail head and can accommodate fairly large groups who call ahead to ensure its availability. The large picnic shelter in the area can accommodate meeting, family reunions, get-togethers as well as other park guests.
Boating - Although there are no boat ramps at the
park, bank fishermen find plenty of action from
the mighty Missouri River for catfish, bass, bullheads, carp, and occasionally, a
sturgeon. Three parking lots offer handy access to the river for anglers. For
boaters, there is access to the Missouri at Brownville State Recreation Area,
just 15 miles north of the park.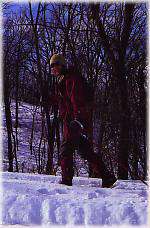 Cross Country - Winter sports are becoming increasingly popular at Indian Cave, with its
picturesque and semi-rugged terrain. Some 16 miles of trails are marked for
cross-country skiing, and the best snow cover usually occurs in January and
February. Since park roads are closed during the winter, they offer some
excellent sledding, as do several of the steep hillsides.
Programs - Weekend visitors will want to take in the program at 9:15 p.m. each Friday
and Saturday during the summer season at the amphitheater. A cookout is
offered at 6-6:30 p.m. Saturdays at North Shelter Area, and offer a rare opportunity to taste buffalo meat. Tickets are available
at the Booth. Live entertainment is provided until 7 p.m. Old-time crafts are demonstrated on weekends in the historic old town of St. Deroin. The Lewis and Clark interpretive lookout is open year-round and recalls the history of the expedition as well as exceptional views of the Mighty Missouri.
Permits and Hours - A park entry permit is required at Indian Cave. Permits are available at the
park office, at any Game and Parks Commission office, or from any hunting
and fishing permit vendor. The park gates are open from 8 a.m. to 10 p.m.
from April 15 through October 31. Hours are 8 a.m. to 6 p.m. the rest of the
year, weather permitting. Quiet hours are 10p.m. to 6a.m.

Address: Indian Cave State Park
RR 1 Box 30
Shubert, NE 68437-9801
Phone: (402)883-2575
Fax: (402)883-2010
Our Email: icavesp@ngpc.state.ne.us

Come visit us in Shubert, Nebraska