category : Museums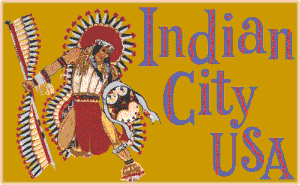 - CLOSED UNTIL FURTHER NOTICE - The only authentic restoration of American dwellings and way of life in America, Indian City, U.S.A. is on the site of the massacre of the Tonkawa Indians by a band of Shawnees and other mercenaries during the Civil War.

Truly authentic in every detail, the villages of Indian City, U.S.A. depict the daily lives, religions, and cultures of seven American Indian tribes that were planned by and constructed under the supervision of the Department of Anthropology, University of Oklahoma. A living memorial to the American Indian, a tour of the villages of Indian City, U.S.A. is a treat for everyone interested in Indian life.


Indian Village Tours

Take a mini tour of the seven replicas of Indian villages in the heart of Indian City USA. Tours take approximately 30 to 45 minutes. By sharing information passed down to them by ancestors, Indian guides make the villages come to life with details of their the customs and beliefs. Members of the same tribes represented at Indian City conduct the tours of the seven villages. Along the trail, you will be shown reconstructions of Navajo, Chiricahua Apache, Wichita, Kiowa Winter Camp, Caddo, Pawnee, and Pueblo Villages. When viewing the villages, it is easy to visualize the type of people that lived in them; such as the agricultural people who lived in permanent villages, or the nomadic hunting tribes who had to follow the migrations of game throughout the year.

It is important to bear in mind when viewing the villages is that we have constructed these villages in miniature. This is not to say that the houses are miniature, for each of them is full size, but rather to say that the villages themselves are smaller than they ordinarily would be.


You might also be interested in the various artifacts on display in many of the dwellings. Items such as tools, cradles, cooking utensils, weapons, musical instruments, games, and toys of the different tribes.

Tours start at 9:30 AM, scheduled every 45 minutes.

Dancing

A highlight of the guided tours, the Indian City dancers perform for each tour during many summer days.

Museum and Lodge

One of the southwest's largest American Indian museums, the Indian City Museum was established to preserve items of Indian origin from the early years to the present.

Exotic Game Trail

American Bison Buffalo, Fallow Deer, Wild Turkey, Black Buck Antelope, Emus, and Llamas are viewable from our 140 acre Exotic Game pasture.

Gift Shop

Authentic, hand made, American Indian artifacts, artwork, and jewelry are available in the Indian City Gift Shop; either by ordering online, or by visiting the shop in person.

Campground

With plenty of things to see and do in the area, maybe you would like to spend a night in our campground. We have full hook ups for RV's, or primitive sites for the tents. Weather in the area is generally mild throughout the year, so come enjoy the great outdoors.

Events

Before you plan your visit, check our calendar for up coming events in the Indian City Area.



Admission: Fee
Hours: Indian City USA is open daily year 'round from 9am - 5pm.
Address: Located 2 miles SE of Anadarko on STATE HIGHWAY 8
Phone: 800-433-5661


Come visit us in Anadarko, Oklahoma