category : National Register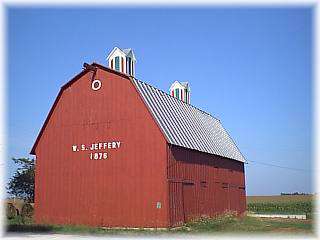 The homestead of the W. S. Jeffery family, near Benedict, is a fine example of a prosperous farmstead in eastern
Nebraska dating from 1878 to the present. The largest and oldest structure is the board and batten horse barn,
built in 1879-80. Other structures of the farm group include the 1899 cow barn,
the 1930 hog house, brooder house, milk house, wash house, cob house, privy, and windmill.
On the opposite side of the road, the Queen Anne style house, built in 1900-1902, is placed on
a slightly higher elevation than the barn. It is surrounded by a well-maintained yard outlined by a windbreak, rows
of trees and shrubs, and a decorative wire fence.
William and Laura
(Dickey) Jeffery, of English descent, were early settlers in the area, and Jeffery became one of York County's
most successful farmers and stockmen. Their eldest son, Orman S. Jeffery, continued to operate the farm and
became a prominent York County landowner.

Address: South edge of town - Road 22 off Highway 81, 5 miles to end of blacktop

Come visit us in Benedict, Nebraska