Johnson City, Kansas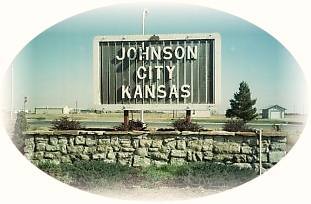 When laid out in 1885, the town site was called Veteran. It was renamed to honor Colonel A. S. Johnson, land commissioner for the Atchison, Topeka, and Santa Fe Railroad and a member of the Johnson Town and Land Company.
As the county seat of Stanton County, Johnson City wants to be the first to Welcome you to Kansas if you are entering from the west and bids you to, "Come back soon!", if you're leaving Kansas on a westward journey.