category : Historic Towns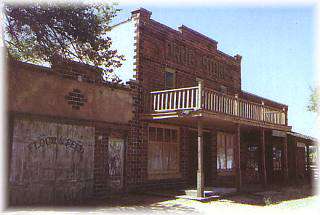 In 1991, the village of Johnstown was the site of filming for the CBS Hallmark Hall of Fame movie, "O Pioneers!" Viewing the old fashioned main street with board sidewalk is a trip down memory lane with a unique "Old West" appearance.
Johnstown was established in 1882 and was incorporated as a village in 1913. Johnstown was named for John Berry, who had taken a claim there. When the railroad came, he gave his land to the town and became a scout for the C and NW railroad.
Johnstown is a very nice, clean, quiet town of about 48, plus or minus; a small village with a big heart. There is lots of parking for campers, shoppers or sightseers. More things are being planned in the near future for the enjoyment of local residents and visitors coming to our community.
The Cowboy Trail goes through the south of town next to Highway 20 and Main Street with shopping, several camping hookups, places to set up tents, year-round shower, tourism information and Berry Park close to the trail.
Every Labor Day weekend, Johnstown hosts the Brown County Fair and Rodeo. Cowboys and cowgirls from Nebraska and nearby states compete in the MSRA/NSRA sanctioned three-day rodeo. The weekend offers free barbecues, exhibits and top name entertainers like Ty Herndon, Thett Akins and the Dixie Chicks.

Address: 10 Miles west of Ainsworth and 35 miles east of Valentine on Highway 20

Come visit us in Ainsworth, Nebraska