category : Recreation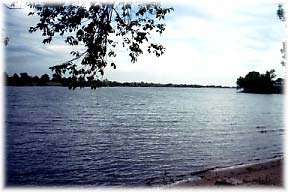 Lake Afton Park, which occupies a 720-acre site is operated by the Board of Sedgwick County Commissioners. The Park includes a 258-acre lake which was started in 1939 and completed in 1942, by the WPA work force.


Address: Located 5 miles SW of Goddard on W MacArthur Road S, and 25 miles southwest of Wichita.
Phone: 316-794-2774


Park Facilities

6 - Shelter houses plus many large and small open shelters
5 - Modern restrooms with showers
2 - Recreational vehicle sanitation disposal facilities
1 - Boat ramp
3 - Fishing docks with feeders
1 - Grocery and bait store
3 - Swimming areas ( 2 large/1 small)

RECREATIONAL ACTIVITIES ENJOYED

* Boating * Go-Cart Races * Antique Car Shows * Jet Ski Races * Family Gatherings & Picnics * Dances * Young Hunters Safety Clinics * Company Picnics * Fishing contests * Water Skiing * Camping groups * State & National Jamborees

CAMPING FACILITIES
Open shelters with or without electrical outlets are strategically placed.
Primitive camping is available in many locations.
Camping day is 6 pm to 6 pm or any portion thereof
With Electricity - $11.00/day (Seniors - $9.00)
Primitive Camp - $7.00/day (Seniors - $6.00)
Water hook-ups are available at only 16 sites, and there is an extra $1.00/day charge for these sites.
FISHING
Many species of fish are contained in the lake.
Channel Catfish, Flathead Catfish, White and Black Crappie, Sunfishes, Bluegill, Largemouth Bass, Black Bullhead and Walleye are game fish caught by local anglers in the lake.
Other species inhabiting the lake include Carp, Gizzardshad, Drum, River Carpsucker, Grass Carp and numerous minnow species.
The lake yields some of the largest flathead Catfish in the state.
24 Hour period - $3.00 (Seniors - $2.00)
Yearly - $15.00 (Seniors - $10.00)
BOATING AND SKIING
Permitted from sunup to sundown
Obtain Boat Permit at the Office before putting boat on the water.
No skiing after sundown
No tubes or jet skiis
All boats up to 20 hp - $3.00/day --- $30.00/year
21 hp-90hp -- $5.00/day ---$50.00/year
91 hp and up - $6.00/day --- $60.00/year
SHOOTING RANGE (Contact Lake Office)
Range is open to the public for rifles or pistols and is operated by Young Hunters Incorporation.
Range is located north of 39th street south.
The range is open to the public 2 weekends per month.
LAKE AFTON OBSERVATORY
The observatory was built in 1981 and has the latest equipment.
Visitors may use personal telescopes or the observatory telescope. Information may be obtained from the Park Office.
Come visit us in Goddard, Kansas