category : Historic Courthouses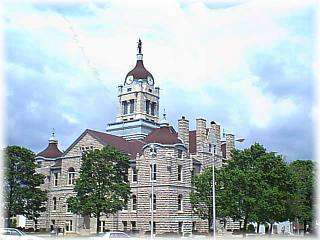 Built in 1900 of native limestone, this is the third courthouse on this site. A statue of Justice graces the top of this historic landmark listed on the National Register of Historic Places. The first courthouse was built of wood in 1846, and was badly damaged during the Civil War. Its replacement was brick and it burned in 1898. There have been two gunfights, three hangings, a Civil War skirmish, and several loud arguments around the town square in its 150-year history.
The statue of Lady Justice was replaced in 1995.

Address: Courthouse Square

Come visit us in Mt. Vernon, Missouri