category : Learning Centers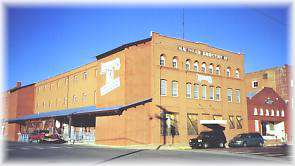 Helen Mary Walker Garriott and Dr. Owen K. Garriott, astronaut, wanted to give back to their childhood community. They gave the seed money to launch "Leonardos."

The Enid Arts and Sciences Foundation believes that the education of our children is the responsibility of our families, schools, the community, as well as cultural organizations. Leonardo's was created to provide innovative education opportunities and is dedicated to the idea that children of all ages learn best when having fun through participatory exhibits, and programs.

Leonardo's supports education by:
Encouraging activities which combine education and play
Presenting exhibitions in the art and sciences
Introducing visitors to the rich diversity of innovative ideas inspired by artist and scientist Leonardo DaVinci
Pursuing collaborations with schools and local community groups
Functioning as a resource for families and teachers
Discovery Warehouse - Volunteer hours transformed an empty warehouse into a Renaissance Fantasy. We are continually changing and updating exhibits to create areas of interest for all ages. In the castle area, one can climb through the dragon's tunnel of texture, create an original masterpiece, climb through a multi-level maze, dress-up like a king or queen, shop in an outdoor market, and explore a variety of changing learning centers.
At the south end one will find a huge fish tank, a shuttle simulator, a puppet area, computer and music exploration areas, a life-science room with live and preserved animals, science demonstrations and exhibits from NASA including items from Dr. Owen K. Garriott, astronaut. The "Discovery Warehouse" held its Grand Opening, September 1st, 1995.
Adventure Quest incorporates the learning content of a science park with the fun of a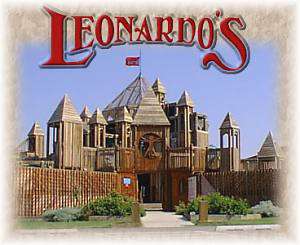 playground. This project is unique and will serve all of Northwestern Oklahoma. It includes a tot lot with a mini city design especially for children under the age of five, a water area where students will learn about rivers a water flow, a galleon with weather measuring instruments, a research quality telescope, a three-story slide and maze, an obstacle course, a dino-time line, a three-story ball machine, an amphitheater, and more.
The design teams met over a period of a year under the direction of internationally recognized architect, Tom Rockwell, from Leather and Associates. Although this firm has organized over 1000 playgrounds across the United States, the idea of making a playground an "outdoor learning center" is relatively new. This adventure is the largest and most complex project that Leather and Associates has assisted a community in creating.
In its final design, children have opportunities to learn scientific principles while at play. They experience these laws with their whole bodies, not just their fingers. The goal has been to challenge every child - whatever their level of ability.
Stage Four is now complete. We have a botanical garden to the east of the main Adventure Quest structure. Our "backyard" includes restrooms, concession and picnic area, a greenhouse, a musical playscape, sundial, and an open grassy area used for a variety of group activities. This area is available for rental.

Admission: Admission $5 plus tax for everyone 2 years and over.
Group rates are available for groups of 12 or more.
Phone: 580-233-2787
Our Email: info@leonardos.org
Our Website:www.leonardos.org

Hours of Operation:
Discovery Warehouse:
Tuesday through Saturday from 9:30 to 5:30
Sunday Afternoons from 2:00 to 5:00.
Adventure Quest: (Weather Permitting)
Summer Hours
Tuesday through Saturday from 9:30 to 6:30
Sunday Afternoons from 2:00 to 5:00.
Fall/Winter/Spring Hours - Labor Day to Memorial Day
Tuesday through Saturday from 12:00 to 5:30
Sunday Afternoons from 2:00 to 5:00.
**Call to Confirm** * Children under 12 must be accompanied by an adult age 18
or over.
Directions:
Leonardo's is located at 200 E. Maple. From Enid's downtown area, go north until you get to Maple and then east to 2nd street.
Come visit us in Enid, Oklahoma