Liberal, Kansas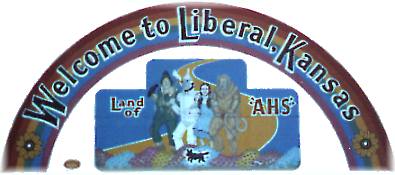 In the 1880s water was a rare commodity is Southwest Kansas. Travelers and ranchers needed a place to rest their livestock and quench their thirst, but when water was unavailable it was quite expensive.
Mr. S.S. Rogers homesteaded in this area and dug a well. When visitors came through the area they asked Mr. Rogers if they could use his well. He obliged their requests, and when they had watered their livestock and restocked their water supply they asked Mr. Rogers what they owed him.
"Water is always free here," Mr. Rogers would say.
The surprised visitors would respond, "That's mighty liberal of you."
The name caught on with travelers to be sure to stop at "liberal" Kansas.
Mr. Rogers added a goods store so people could purchase other items they needed during their travel. Some decided to stay and farm this area and in 1886 Mr. Rogers added a post office to his store, incorporating the small community known as Liberal, Kansas.
Southwest Kansas hospitality shines bright year round as area visitors and residents enjoy the sights and sounds of Liberal. The Mid-America Air Museum boasts the nation's fifth largest collection of military and civilian aircraft and houses on of the country's finest "hands on" aviation science exhibits.
The history of Seward County began over 400 years ago, and is recorded at The Coronado Museum. The museum offers a collection of items dating back to 1541. The museum also features a collection of items used in the settlement of this territory during its Wild West heyday and also those things whcih gave it a more civilized tone.
Dorothy's House and The Land of OZ, one of Kansas's most popular tourist attractions, delight visitors with recreations of the classic movie and over 5000 square feet of animated entertainment. Soon Liberal will proudly unveil the completely renovated Rock Island Depot, which is on the National Historic Register.