Lincoln Reenactment
Starting date:
Ending date:
Event# 866-520-0841
Event Details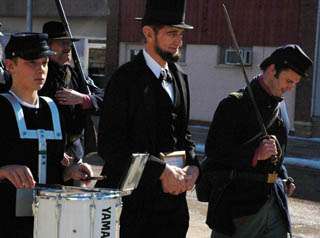 28th annual REENACTMENT SCHEDULE, FEB 9 & 10, 2018

Featuring the 1858 Lincoln/Douglas Debates and an Afternoon Past in the Marshall-Yohe Home

FRIDAY, FEB 9

6:30 pm Lincoln County Historical Museum 216 W Lincoln Ave: screening of "Living With Lincoln"
8:15 DISCUSSION led by Marla Matkin, Hill City, KS, & Jack Crispin, Lincoln, KS

SATURDAY, FEB 10

8:30 am Marshall-Yohe House 316 S 2nd Street
President's Breakfast for Lincoln Look-A-Likes and Performers

9:15 Lincoln County Courthouse 216 E Lincoln Ave
Ticket sales begin and Period Music by Mattson & Weaver, Salina, KS
9:50 Welcome & Introductions by Jack Crispin, Lincoln, KS, Master of Ceremonies


10:00 The Lincoln Douglas Debates of 1858: Tom Leahy, Conway Springs, KS as Abraham Lincoln; Bud DeArvil, Lincoln, KS, as Stephen Douglas

11:15 Break

11:25 Mary Todd Lincoln: In the Eye of the Storm Marla Matkin

11:45 Break and Sing-A-Long Interlude

12:00 Lincoln Look-A-Like Ceremony: Drummer: Anthony Burlingame, Lincoln, KS

The Gettysburg Address presented by Tim Rust, Wichita, KS

Winner selected by audience vote

12:30 pm Christian Community Center 137 N 4th Street
Buffalo Stew Meal: a sturdy stew with biscuits, fruit, and cherry pie

1:30 Marshall-Yohe Home 316 S 2nd Street Experience an 1800's Afternoon Past

Drop by various rooms and listen in on Abraham and Mary Todd Lincoln, Thomas Ewing, Jr.,(Civil War

General from Kansas), and Billy Herndon, (Law partner of Abraham Lincoln)

Presenters: Tom Leahy, Marla Matkin, Jack Crispin, Dan Metz, Lincoln, KS

In the Parlour and Dining Rooms sing along with the pump organ and phonograph, play board games

sample cookies, pose with the Lincolns for keepsake photos, take time to visit.

3:00 Farewell

$20 adult: all day and meal; $8 adult afternoon only Free: Students all day and meal


Sponsored by the Lincoln County Historical Society Reenactment Committee; funded
in part by Lincoln County businesses, organizations and persons who love history
785 524 5133, villagelines@sbcglobal.net , updates at villagelines.com
Lincoln Reenactment
Phone :
866-520-0841
(Always call and confirm events.)
Web Address :
http://www.villagelines.com
Admission Fee :
Free. Small charge for meal.
Additional Notes :
Reenactments
Attractions and Upcoming Events
Things to do near Lincoln, KS