Log Cabin Days Festival
Starting date:
Ending date:
Event# 515-961-6149
Event Details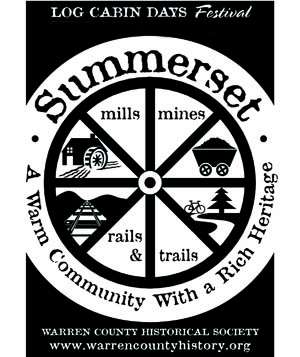 Each year the Warren County Historical Society, Warren County, Iowa, hosts this two day event that brings local history alive for residents. Honoring a different county town each year, volunteers put together meals, a parade, home made craft booths, a quilt exhibit, entertainment, pioneer demonstrations, a giant pumpkin contest, a pie and cake auction, and more. There will be an all day Farmer's Market on Saturday and an Antique and Classic Car Show on Sunday. This year's honored town is "Summerset - A Warm Community With a Rich Heritage."

Come and enjoy one or both days with us! Tour our Historical Museum that contains the Warren County Historical /Genealogical Library, kitchen/dining room, and two floors of historical exhibits including a large collection of Winchester Tools, McCoy Pottery, and an authentic to scale model train exhibit built by the Modular Rail Roaders. The Historical Village has a log cabin, Mt.Hope Country School, Pioneer Church, South River Quaker Meeting House, George Washington Carver Museum, Large Machinery Building, and General Store. Bring the family!
Log Cabin Days Festival
Address :
Warren County Fair Grounds, 1400 W 2nd Ave
Indianola
IA
Phone :
515-961-6149
(Always call and confirm events.)
Web Address :
http://www.warrencountyhistory.org
Festivals
Attractions and Upcoming Events
Things to do near Indianola, IA