McCook, Nebraska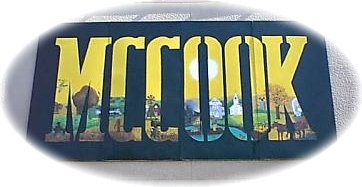 Within the calm settings of the beautiful Republican River Valley, there is a place where memories are made.
A place where freedom and adventure still capture the hearts of people. A place where a day on the range can be enjoyed around a campfire or with a golf club in your hands.
Experience summer concerts in the park, a rodeo at the county fair or storytelling at an annual festival. Adventure along the river, the lakes and nature trails. Stroll along historical brick streets at your leisure, or speed across the finish line at the local fun park.
Enjoy a burger served by a carhop at the local drive-in, solve the world\'s problems over coffee or romance over an evening of fine dining.
Discover a place in America\'s Heartland where farming has evolved from horse drawn plows to methods involving global positioning systems.
It\'s not a seasonal destination; travelers are always welcome. There\'s a reason in every season to visit McCook, Nebraska.
History...
McCook was established in 1882 as the result of an agreement between the Burlington & Quincy Railroad Company and the Lincoln Land Company to form a new railroad center near the village of Fairview. The location was chosen for its positioning directly between Denver, Colorado and Lincoln, Nebraska.
The name derived from a Union Brigadier General, Alexander McDowell McCook, of the \"Fighting Ohio McCooks\" who were known as military leaders and Indian fighters.
A traditional old west boom-town, McCook quickly became the center of commerce and trade in Southwest Nebraska and Northwest Kansas. Pioneers flocked in for the opportunity to create fresh profitable lives in the thriving new railroad town.
As the community began to establish a firm existence, farming and ranching spread across the surrounding rural area. In 1890, the largest buffalo herd in the world existed northeast of McCook. A man known as Buffalo Jones established several ranches that provided buffalo to the rest of the world. Jones is credited to be directly responsible for keeping the buffalo from extinction.
Over one hundred years of history deeply rooted in agriculture, the railroad industry and the spirit of the American pioneer is still prevalent in the community lifestyle of McCook today. Come experience the history for yourself and enjoy making your own history while you\'re here.