Minneola, Kansas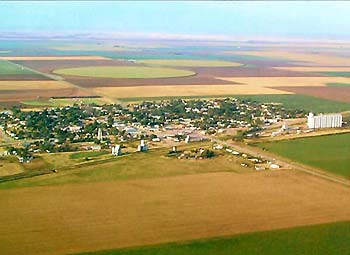 The beauty of Minneola is that it's a warm, friendly place where one can safely take a stroll in the evening, where neighbors wave, and where kids can be kids. Minneola is supported by dedicated people all working for that "perfect place" to live and enjoy their families. They are proud to live where buffalo once roamed and the prairie spreads to the horizon. They care for the land and care for each other. Minneola is a community that modern day settlers are proud to call home.
The first settlers arriving in southwestern Kansas were greeted by a vast expanse of prairie inhabited by abundant herds of buffalo and antelope. The herds have disappeared and much of the open blue stem prairie has been plowed and planted to resemble similar fields to the east. Farmers and townspeople have adapted to the prairie, planted trees, and made it their home. This city was chartered July 5, 1887 and the name was chosen in honor of the president of the Minneola Town Company. One of his daughters was named "Minne" and the other was "Ola."
Picture a rural community of nearly 800 people with a K-12 school, 5 churches, a hospital, a long term health care facility, fire and emergency medical service, library, civic center, 2 baseball fields, a swimming pool, 2 restaurants, a motel, 3 apartment complexes, 2 parks and over 40 businesses. Minneola Schools have an excellent reputation of maintaining high academic standards where over 90% of Minneola High School graduates go on to higher education at colleges, universities, and vo-tech schools. Minneola's economy revolves around agriculture as well as health services.