category : Recreation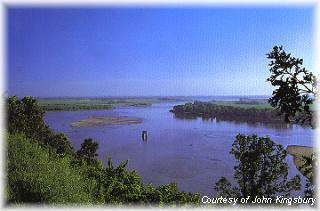 "The Missouri National River is vast, spectacular and unique. It is a meandering living river below the dams and above the channeled portion of the river. There are few places like it. This National River is a natural wonderland filled with outdoor recreation and education opportunities. Importantly, it is being called one of the few remaining parts of their journey that Lewis and Clark would still recognize. This 59-mile stretch of natural meandering national river provides a unique eco-system for natural resource education and outdoor recreations, environmental restoration, biological and cultural research and increased public awareness.
With major new developments at Ponca State Park and the 200th Anniversary of the Lewis and Clark Expedition beginning in 2003, the Missouri National Recreational River from Ponca to Gavin's Point Dam at Yankton, SD is gaining significant national attention. More than 400 acres of National River bottom land was recently purchased by the Conservation Fund and donated to Ponca State Park.
A three-million dollar wetlands, backwater habitat restoration project is now underway. The project will include native wetlands and river oxbow restoration with educational trails explaining this unique National River. Research projects are already underway and the Park's educational programs will soon include classes and activities relating to the National River.
The National Canoe Trail with access locations and camping sights is also being developed by the National Park Service and the Corps of Engineers, utilizing both public and private lands.
The 16,000 sq. ft. Education Center Complex will include Park offices, meeting and program rooms, a gift shop, conference facilities, interpretation centers, and a research and public education wing. The ten million dollar project is scheduled for completion by early 2003.
Come visit us in Ponca, Nebraska