category : Monuments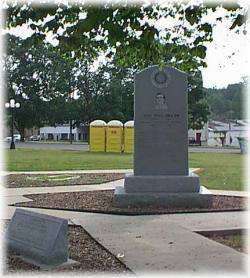 John Ross 1790-1866
Principal Chief of the Cherokee, 1828 - 1866
Born October 3, 1790 in Turkeytown, Alabama, the son of a one-quarter Cherokee maiden and a Scotsman, John Ross was elected as the first Principal Chief of the Cherokee Indians in 1828 and served in that capacity for the next 38 and one half years until his death on August 1, 1866 in Washington, D.C.
During his tenure as Principal Chief, John Ross vehemently resisted all efforts by the various states and federal government to undermine the sovereignty and removal proposals. After exhausting every legal avenue, the Cherokee people were forcibly removed west during the winter of 1838-39.
Much of his life was spent dealing with adversity. He was a veteran of the War of 1812, serving under his future adversary, Andrew Jackson. The removal of his people also cost the life of his beloved wife, Quatie. After removal the internal strife of a nation divided, the War Between the States, again divided his people and Chief Ross had to cope with the struggle for power between the United States and the Confederate States by trying to keep his people neutral.
Chief Ross was buried in Delaware when in 1867, a delegation was sent to return his remains to the Cherokee Nation. After lying in state for one month at the Cherokee National Male Seminary, his remains were interred at the Ross Cemetery at Park Hill. [south of Tahlequah]
Chief John Ross
Address to the National Council
Tahlequah, Indian Territory - October 5, 1857
"The surest safeguard for the nation must be found in the respect and confidence of the people; and those can be secured only by its affording that protection to life and prosperity for which it was instituted.
Dedicated this 27th day of October, 1990.

Address: Cherokee Square surrounding the Capitol Building.

Come visit us in Tahlequah, Oklahoma