category : Halls of Fame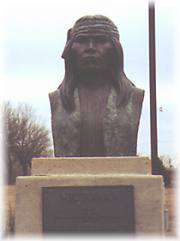 The National Hall of Fame of Famous American Indians was established to recognize famous Indians. It was a chance to provide a portrait in bronze bust for people to touch and see the famous people in a three dimensional likeness that they read about in history books.

Formed in 1952 by historians and people interested in history, there are now 41 busts in the Hall of Fame, an outdoor garden with a sidewalk that is about three quarters of a mile long passing each bust. The busts have been sculpted by famous artists so please note the names as you pass. Along with the names of each of the Hall of Famers is a short history of the person. A self-guiding tabloid with a short biography of each bust is furnished at the visitor center.


Many times Ta-hau-san, Satanta, Quanah Parker, Jose Maria, Black Beaver, Kickingbird, Ahpeahtone, and maybe Geronimo, as well as others, rode their horses over the grounds of the Hall of Fame many years ago. Several families come to wash their family member's bust and say a few prayers.

American history books, postcards, tribal pictures, and a few other busts are located inside the Visitor Center.

Tour time approximately 1 hour; one level, handicap accessible, including restrooms


Admission: Free Admission
Hours: Monday through Saturday, 9 am-5pm
Sunday, 1 pm-5pm
Closed on National holidays
Address: Located on Highway 62 east of Anadarko.


Come visit us in Anadarko, Oklahoma