category : Halls of Fame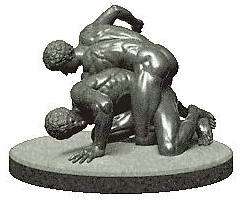 America's shrine to the sport of wrestling, the National Wrestling Hall of Fame and Museum, is a focal point for the past, the present and the future. It preserves the heritage of the sport, celebrates new achievements, and encourages the youth of our land to aspire to lofty goals.


The first thing you see upon entering the National Wrestling Hall of Fame and Museum is the life-size marble statue, The Wrestlers. Weighing more than 1,300 pounds, it's hard to miss. The Wrestlers, an exact copy of the classic statue by Cephisodotus, which stands in the Uffizi Gallery in Florence, Italy, was a gift to the Hall of Fame from Calvin Garrett as a memorial to his son Robert, an Oklahoma State University senior who was killed in a motorcycle accident.

This historic site in Stillwater, Oklahoma -- located on the campus of Oklahoma State University -- is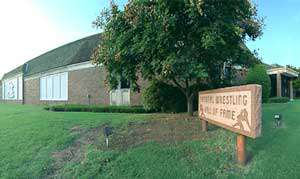 a symbol of commitment by the wrestling community to man's oldest sport.
The Hall of Fame serves a triple function. In the Honors Court, it trumpets the legends of great athletes, coaches and contributors, so that we may understand the reasons for their success, recognize their sacrifices, and build upon their traditions.
Through its network of state chapters, the Hall of Fame recognizes exceptional service to the sport by coaches and volunteers over a substantial period of time with Lifetime Services Awards at the grass roots levels. Other halls of fame, which recognize achievements and service to wrestling, also have their niche in the national museum.
Another purpose of the Hall of Fame is to stimulate the growth and development of wrestling nationwide. Focusing on family participation, wrestling emphasizes wholesome physical activity for youth, and involves their parents as coaches, officials, club leaders and fans. While competing at his own pace and within his own abilities, each youngster can dream the Olympic dream.
As the custodian of wrestling's heritage, the national museum features an array of sculptures, photographs, banners, plaques, medals, trophies, uniforms and other memorabilia. The Bill Hein Library, recently augmented by his mammoth collection of books, theses, dissertations, films, video tapes, et al, houses a growing collection. The Wall of Champions lists more than 5,000 names of wrestlers who have won national championships or have represented the United States on Olympic, Pan American and World teams.

Hours: Monday - Friday | 9 a.m. - 4 p.m.
Weekends by appointment.
Please call ahead of your visit.
Address: 405 W. Hall of Fame
Phone: 405-377-5243
Fax: 405-377-5244
Our Email: info@wrestlinghalloffame.org
Our Website:www.wrestlinghalloffame.org/

Come visit us in Stillwater, Oklahoma