category : Museums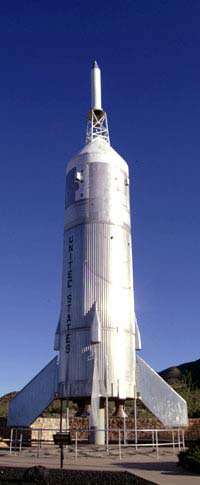 The New Mexico Museum of Space History is one of 15 divisions of the New Mexico Department of Cultural Affairs. The mission of the museum is to educate the people of New Mexico and visitors from around the world in the history, science, and technology of space. The museum stresses the significant role that the state of New Mexico has played in the development of the U.S. Space Program through collecting, preserving, and interpreting significant artifacts relevant to the history of space.

The Museum is composed of:
The Museum of Space History. Contains exhibitions ranging from Robert Goddard's early rocket experiments near Roswell to a mock-up of the International Space Station.
The International Space Hall of Fame. Commemorates the acheivements of men and women who have furthered humanity's exploration of space.
The John P. Stapp Air & Space Park. Displays larger exhibits, such as the Apollo program's Little Joe II rocket and the rocket sled that "Fastest Man Alive" Stapp rode to 632 mph.
Daisy Track. Commemorates aeromedical and space related tests which were crucial in developing components for NASA's Project Mercury orbital flights and the Project Apollo moon landings.
The Clyde W. Tombaugh IMAX Theater and Planetarium. The only such theater in New Mexico.
Astronaut Memorial Garden. A tribute to the Space Shuttle Challenger & Columbia astronauts.
The Hubbard Space Science Education Building. Home to the Museum's annual summer program–Shuttle Camp–and the Museum's educational outreach programs, serving over 10,000 students each school year.
The Museum Support Center. A renovated warehouse, wherein conservation and restoration of the many large artifacts exhibited at the Museum are conducted.

Admission: Adult s: $3.00; Seniors 60+: $2.75; Children (4 to 12 yrs): $2.50; 3 and under: Free. IMAX Shows are extra.
Hours: Open 7 days a week, 9:00 AM - 5:00 PM; Closed Thanksgiving, Christmas Eve, and Christmas day.
Address: End of New Mexico 2001 above college campus (east of Science Dr.)
Phone: 877-333-6589
Our Website:www.nmspacemuseum.org

Come visit us in Alamogordo, New Mexico