category : Arts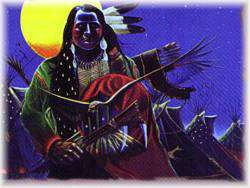 TRIBES GALLERY
"Southern Arapaho" (pictured), is one of many magnificent painting by Mirac Creepingbear available at Tribes Gallery, also representing many of Oklahoma's renowned and accomplished Native American Artists.
Hours: Tuesday through Saturday, 10 am - 5:30 pm
307 E. Main
405-329-4442
THE CRUCIBLE, LLC
Foundry and Gallery
The Crucible, LLC specializes in bronze sculpture both from maquette to monumental. The age old process of the lost wax method has been brought to the city of Norman by Steve and Mark Palmerton.
The foundry is housed in the old Carey Lumber Building built in 1881. Beside the foundry is the Crucible Gallery and Sculpture Garden.
Hours: Mon-Fri 9am-6pm Saturdays 10am-5pm,
Sundays and Evenings by appointment only.
Tours available by appointment.
110 E. Tonhawa
MAINSITE CONTEMPORARY ART
MAINSITE Contemporary Art is a gallery focusing upon the art work of living artists. Besides being a venue for the best of Oklahoma art, MAINSITE will show regionally emerging artists and recognized national and international artists. Exhbits of fine art for the established and beginning collector change every five weeks.
FREE Admission
Hours: Tuesday through Thursday, 10am-5:30pm
Saturdays, 10am-4am
Location: 122 East Main St.
Come visit us in Norman, Oklahoma