category : Museums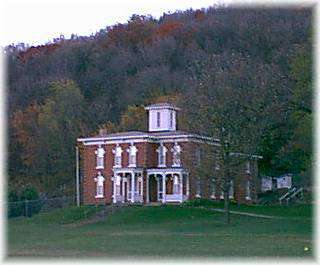 The two-story, brick house, located near Homer, was designed and built by Cornelius O'Connor, an Irish
immigrant. O'Connor had been a carpenter, but became a farmer after settling in Nebraska. He represented
Dakota County in the territorial legislature, and he was instrumental in establishing the first school in Dakota
county, the O'Connor School, which he directed for over twenty years.
This 14 room mansion was none too large to accommodate the captain, his wife, and 10 children. The house was literally "built on a rock." Stone slabs were shaved and fitted together to form the foundation. The solid foundation is topped by an equally solid double (sometimes triple) layer of brick walls. The brick came from Omaha. The house had a cupola on the roof. This was built so Capt. O'Connor could keep an eye on his hired hands as they worked on the farmland surrounding his mansion. This cupola was blown off by a tornado in 1880.
The double door front entrance to the house opens into a hall dominated by a curving staircase. This was all carved by Capt. O'Connor. The doors on the first floor are gracefully arched and panels are further painted by a daughter. Being a carpenter, he finished all the native walnut woodwork throughout the house. He carved the built-in walnut sideboard in the dining room. The large marble fireplace in the parlor was imported from Italy. It must have been a favorite spot for the O'Connors to gather on a cold winter evening. The mirror above the fireplace was brought from New York when the family came here in the 1850s.
There are eight bedrooms upstairs. Three of the rooms are on a lower level than those in the front of the house. These were the servants' quarters and were easily reached by a short flight of stairs from the kitchen. All six bedrooms had a chimney with a circular opening for the air-tight heaters. As the children were wed many dinners and receptions were held in this beautiful mansion that is listed on the National Register of Historic Places

Address: 2 miles east of Homer, NE
Phone: 402-494-1307

Come visit us in South Sioux City, Nebraska