category : Museums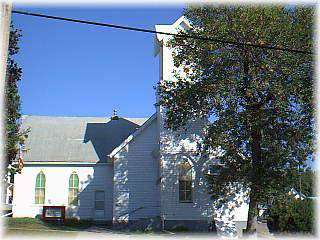 The Museum of Memories is a three-building complex operated by a group of volunteer's who work at the museum each week. The museum began in 1973 after the property was donated by the members of the Irish Lutheran Church of Syracuse. The property consisted of an over 100-year-old church building, complete with a steeple and bell, and a large 2-story house, the former parsonage. In the 1980s a third building was built to house the wildlife collection of the late Henry Kramer. Much of the history of the Otoe County area is shown and recorded in the museum and many of the backgrounds used in the museum displays were painted by the late Esther McClary.
Church Displays


Original Altar left as a memorial to the former church members


1890s Doctor's Office


Old-fashioned Loom


Butcher Chop which was a Syracuse original


Harness shop with a sleigh


Old-fashioned country store which was built from cottonwood trees harvested in the area


Over 20 pieces of hand-made, miniature farm and pioneer wagons, horse-drawn machinery, etc.


Large group of quilts and a collection of scrapbooks containing obituaries, weddings, births


Indian artifacts


Parsonage Displays


Kitchen and Parlor with rotating scenes


Plate collection displayed on the entry walls


Second floor bedroom


Patriotic and Military room with uniforms from the Spanish American War to current


Edison Room


Otoe County room with maps, desk, sofa, and items from the Otoe County Courthouse


Chick Boyes Players with props, costumes, etc from 30s and 40s tent shows


Farm and Carpenter Tools in basement


The Kramer building houses a large collection of wildlife and birds, and behind the parsonage is a well-maintained herb garden.

Hours: HOURS: May to September, Sundays from 1:30 to 4:00 pm, or anytime by appointment
Address: 366 Poplar Street
Phone: 402-269-2345

Come visit us in Syracuse, Nebraska