category : National Forests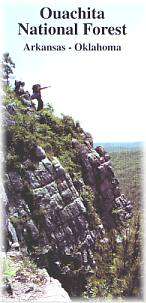 Over 1.6 million acres of natural wonders awaits you at one of the three national forests in Arkansas and Oklahoma.

The Ouachita National Forest is the oldest national forest in the South. The forest is named for the Ouachita Mountains, (pronounced, Wash'ita), which stretch from near the center of Arkansas to southeast Oklahoma. "Ouachita" is the french spelling of the Indian word "Washita" which means "good hunting grounds". Today the Ouachita National Forest is an important provider of timber and other forest products to the nation while providing wonderful opportunities for outdoor recreation. The forest is a "land of many uses" including timber, grazing, mining, recreation, and providing habitat for wildlife. A progressive ecosystem management policy promotes wise use of the land and provides a healthy forest for tomorrow.

Although the largest portion of the forest lies in Arkansas, Oklahoma claims 43,000 acres in McCurtain County in Tiak Ranger District, Kulli Recreation & Bokomo Recreation Areas, and 237,000 acres in LeFlore County, the two most Southeastern counties bordering Arkansas.

Breathtaking vistas attract many visitors to the Ouachita forests. These forests are generously endowed with recreational opportunities for camping, hiking, swimming, fishing, hunting, and boating. There are 35 developed recreation areas, 7 scenic areas, 43 vistas, 5 float camps, 11 shooting ranges, 2 historical sites, 6 wildernesses, 1 national
recreation area, and 700 miles of trails. The forest offers visitors a myriad of opportunities for either 1-day trips or extended vacations filled with relaxation and enjoyment.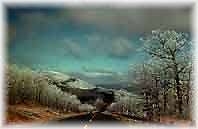 Six national scenic byways cross the three forests. Highway 7 National Scenic Byway is one of the country's prettiest drives.
Talimena Scenic Byway, ideal for family outings, offers spectacular views and attractions traveling from Arkansas into Oklahoma.
Over 1,000 miles of hiking, biking, horseback riding, and offroad vehicle trails allow visitors to fully enjoy the forest's beauty year-round. http://www.fs.fed.us/oonf/rec/trails.htm
Vibrant spring and fall colors draw visitors to Oklahoma's Winding Stair Mountain National Recreation Area.
Wildlife is abundant, for great photo opportunities or hunting in-season game.
With 58 designated recreation sites, there's plenty of room to enjoy your favorite activity - camping, picnicking, swimming, boating and fishing.http://www.fs.fed.us/oonf/rec/camping.htm
Blanchard Springs Caverns delights visitors with awesome live cave formations.
Discover the excitement of outdoor adventure while floating one of many national wild and scenic rivers.




Phone: 580-286-6564
Our Website:www.fs.fed.us/oonf/ouachita.htm
Tiak Ranger District
201 N. Central, Room 116
Idabel, OK 74745
Come visit us in Idabel, Oklahoma