category : Trails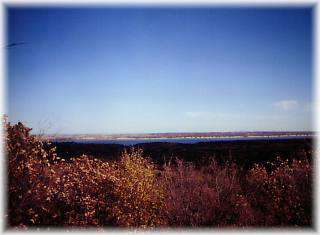 The wild west era where famous outlaws, horse thieves, lynch mobs and lawmen ruled is past. Today, along the Outlaw Trail, travelers are greeted by friendly folks as well as plenty of quiet hideaways.
Extending from the South Sioux City area to Valentine, the Outlaw Trail Byway meanders along side the Niobrara and Missouri rivers where steep bluffs and tree-shrouded slopes give way to lush, rolling green hills.
The deep canyons and dense tree cover surrounding the Devil's Nest area created a meeting point and hideout sites for Jesse James and his gang. On the western end of the byway, verdant farmland graduates into the wide open spaces of ranching country and the massive Sandhills of Nebraska.
Travelers find plenty of outdoor fun along the way. About 20 miles northwest of South Sioux City, you can spend a day hiking and trail riding in Ponca State Park, then overnight in cabins at the preserve (402/755-2284).
Northwest from that park for nearly 60 miles to Gavins Point Dam, the Missouri River runs wild and free. This river stretch is a favorite for canoeists. Behind Gavins Point Dam, six recreation areas, with camping, dot the shores of huge Lewis and Clark Lake (402/388-4169).
West of the lake, you can canoe another wild stretch of the Missouri River. Or paddle up the Niobrara River where it pours into the Missouri at Niobrara State Park (420/857-3373).
From the park west, State-12 follows the north bank of the Niobrara. Near Sparks, just east of Valentine, the stream runs through a deep, forested gorge. Canoeists from across the country flock to this breathtaking stretch. Most pull ashore at Smith Falls State Park to cool off in its namesake 95-foot-high falls (420/376-1306). You also can camp along the river in the park. Visitors view other waterfalls along trails at nearby Fort Niobrara National Wildlife Refuge (800/658-4024).
History intertwines along this route. Lewis and Clark's Expedition, on the 8,000-mile excursion up the Missouri River to the Pacific Ocean navigated through this area.
Nebraska Highway 12 begins at Willis and ends at Valentine. It passes through seven counties: Dakota, Dixon, Cedar, Knox, Boyd, Keya Paha, and Cherry and through the communities of Willis, Ponca, Newcastle, Maskell, Obert, Wynot, Crofton, Niobrara, Verdel, Monowi, Lynch, Bristow, Spencer, Butte, Naper, Mills, Burton, Springview, Sparks, and Valentine.
Come visit us in Ponca, Nebraska