category : Museums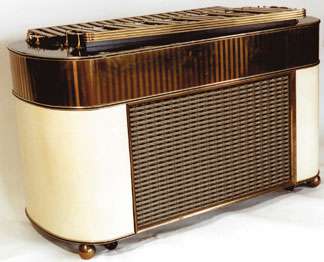 The Percussive Arts Museum and Library are currently closed and have been moved to Indianapolis, IN with the administrative offices as of April 2007. The PAS Museum and Library will open in a new space downtown Indianapolis in 2008.
In the mean time, you can visit a virtual tour of the museum within the website below.

The Percussive Arts Museum is fast becoming one of the most extensive and important collections of percussion instruments in the world today. From xylophones and drums to chimes, bells and marimbas this is truly a diverse display of percussion instruments. The collection highlights the important role that drums and percussion have played from primitive to modern times - from communication and religious ceremonies to celebration and entertainment to practical uses.

The museum's popular hands-on section offers fun for all ages. Here visitors can try dozens of percussion instruments and experiment with infinite musical sounds.

A featured piece is the King George marimba, one of only 102 ever made and specially designed for the 25th anniversary Golden Jubilee for the Coronation of King George V in 1935. Another unusual find is the 11-foot, 120 pound Eroica wind chime, suspended strategically for viewing and using. Instruments from Hollywood sound effects pioneer Emil Richards and a hands-on exhibit invite visitors to revel in the sight and sound of percussion.
Among the instruments in the PAS Museum collection are:
- One of the first commercially available vibraphones, manufactured by Leedy around 1924
- Barry Collapsible Drumset, built in 1919 for traveling drummers
- Musser's Deluxe Neo-Classic Concert Grand Vibraphone
- Thai Pi Phat ensemble, similar to the Indonesian gamelan
- A collection of Indonesian Angklung
- Deagan King George Marimba, manufactured in 1934 for Clair Omar Musser's International Marimba Symphony Orchestra
- Shelly Manne's drumset
- Novelty instruments such as the Leedy Timp-Bass, a combination string bass/timpani, which was manufactured in the late 1920s
- Collections of Waterphones, Tubaphones, Timpani, Slit Drums, Bass Drum Pedals and Gongs
- Haskell Harr's xylophone
- Leedy Octarimba, featuring pairs of bars pitched in octaves that were played with double-headed mallets
- Musser's Celestaphone, built from meteorites
- The original manuscript for Paul Creston's "Concertino for Marimba"

Phone: 317-974-4488
Fax: 317-974-4499
Our Email: percarts@pas.org
Our Website:www.pas.org

Come visit us in Lawton, Oklahoma