Ponca, Nebraska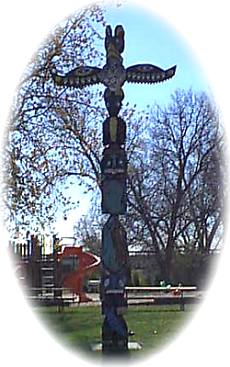 The history of Ponca, one of Nebraska's five oldest communities, reads like a western novel. Adam Smith, his wife, and nine other settlers crossed the Missouri into Nebraska in 1856 and camped south of the Aowa Creek, since to the north was "Indian territory." Frank West and a Mr.Carson (uncle to Kit Carson) fearlessly knocked down the warning signs and proceeded to lay out a 24-block town beyond the "safe zone" on the present town site. Named for the Ponca Indians, who laid claim to the land from the Aowa to the Niobrara River, this was the first settlement between Sioux City and Fort Randall.
Over the years the Missouri River moved at will. Eventually the town was no longer "a port." In 1934 the American Legion raised money to purchase 220 acres along the river for a park. Over 2,000 people attended the dedication. The CCC (Civilian Conservation Corps) built roads, buildings, two shelter houses, and transplanted 5,400 shrubs and trees. In the years that followed cabins were built and electric lights installed. The ferry boat, docked at the Bigley ravine, made regular trips across the river to South Dakota, carrying cars both ways. A pool was added in 1956 in honor of Ponca's centennial. Ponca State Park, now over 900 acres and ranking with the best in the nation, continues to expand.
Among the frontier-day buildings still standing in Ponca's Historic Downtown District are the opera house, the Commercial Hotel, the print shop, Cook's blacksmith shop, two banks, and some of the oldest homes in the state. It boasts one of the oldest banks and newspapers in Nebraska. Visitors enjoy a walking tour and discover a fascinating history mixed with modern shopping in our friendly, home-town atmosphere.
Ponca currently thrives as part of the Siouxland metropolitan area. Five churches and an excellent K-12 school system make Ponca an attractive community for people, working in the city, who opt for the advantages of small-town living. There is a growing young population as well as significant river recreation and summer housing.
Two major celebrations are held annually -- "Days of '56 Rodeo" the last of June, and Ponca's "Nifty-Fifty's Weekend" and all-school reunion the first of August.
- Information in part by John F.Kingsbury, Bank of Dixon County, Ponca, NE 68770.