Ponca City, Oklahoma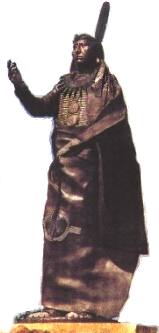 Ponca City was founded on September 16, 1893 when the great land run opened the Cherokee Strip to white settlement. Named for one of five neighboring tribes of Indians, Ponca's heritage was based on agriculture, oil and industry. During the oil boom years, local philanthropists and influential citizens built many of the historic buildings in Ponca City, giving a rich heritage of architectural treasures.
In the summer of 1893, a survey of the land that now comprises Ponca City was completed and lots were mapped. Certificates for lots in Ponca City were sold by the Ponca Townsite Company for $2 each and each certificate was good for either one business lot or one residential lot. Over 2,300 certificates were sold. A little girl drew the cards from a box placed on Grand Avenue between 3rd and 4th streets. From these drawings attendants recorded the certificate owners' names and lot selections in large bound books. This is believed to be the first instance of a new city being started with a town lot drawing. It took two days to complete the drawings and Ponca City was born.
Even though Ponca City began with the 1893 land run, it was the '20s when the city came alive. Outlandish parties, wild new music -- a time of gay abandon. It was roaring good fun.
Another roaring was that of the oil wells and with that sound came money. Money that left its indelible mark on our community -- beautiful golf courses, posh hotels, lavish homes, rich gardens, a grand theater -- an elegant legacy upon which our citizens today continue to build.
Welcome to Ponca City!. Immerse yourself in our history.