category : Trails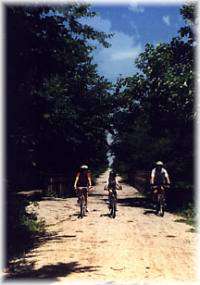 Prairie Spirit TrailThe Prairie Spirit Trail offers biking and hiking enthusiasts, runners, bird watchers and nature lovers a new Kansas outdoor adventure. From Ottawa to Iola, the Prairie Spirit Trail encompasses 50 miles of trail.

The Rail-Trail was constructed as one of the first north-south rail lines in Kansas in the early 1860's. The line ran from Leavenworth, Kansas, to Galveston, Texas. The right-of-way has been railbanked under the National Trails System Act. Railbanking is a voluntary agreement between a railroad company and a privateor governmental entity to use an out-of-service rail line as a trail or "linear park." The Prairie Spirit Rail Trail is one of three major railbanked corridors in Kansas and the only corridor managed by the State of Kansas.

The trail meanders through golden prairies, quiet woodlands, beautiful lakeside scenery, and travels through charmingly inviting communities. The trail is operated under the management of the Kansas Department of Wildlife and Parks.

The trail is hard-packed surface created by mixing calcium chloride with limestone screenings. Inside the city limits of Garnett and Ottawa, the surface is asphalt and is adorned with native landscaping and ornamental lighting. The trail is approximately 10 feet wide including the trail shoulders, and trail grades are very moderate since it is build upon a railway bed. There are some areas with steep slopes off the trail and care should be taken not to travel off the improved surface.

The trail is designed for non-motorized transportation, and the only motorized vehicles allowed on the trail (other than motorized wheelchairs) are for law enforcement, medical emergencies and maintenance. The trail is routinely patrolled by the Kansas Department of Wildlife and Parks and other local law enforcement agencies.




TRAIL PERMITS: A per-person trail permit is required for trail use outside the city limits of Garnett and Ottawa. Persons using the trail within the cities of Garnett and Ottawa may do so free of charge. The cities of Garnett and Ottawa provide maintenance of the trail within their respective city boundaries. This maintenance is provided in exchange for usage of the trail within those boundaries at no charge.

Self-pay permits are $2.50 per day and may be purchased at self-pay stations located at the Ottawa, Princeton, Richmond, Garnett and Welda trail heads. Annual permits are available for $10.50 at the following locations: Garnett Area Chamber of Commerce office, Garnett; City of Garnett, 131 W. 5th, Garnett; Country Mart, 2138 S. Princeton, Ottawa; Franklin
County Clerk's Office, Franklin Co. Courthouse, Ottawa; Village Inn Motel, 2520 S. Main, Ottawa. No permit is required for persons 15 years of age or under.
TRAIL HOURS: The Prairie Spirit Trail is open during daylight hours (outside the city limits of Garnett and Ottawa). Special use permits may be obtained for group night rides or events from the trail manager. These events must be approved and planned in advance for notification of local law enforcement agencies.
FACILITIES: Trail restrooms are available in Princeton, Richmond and Welda from approximately April 15 to October 15. Trail restroom facilities are available throughout the year at the Santa Fe Depot located near the town square in Garnett. The depot serves as a tourism information center as well. Picnic areas are located at each trail head.
CAMPING: Camping is prohibited along the trail corridor, however, camping is available at Lake Garnett Park in Garnett which borders the trail. Camping sites with water and electricity are available. For more information on other nature camping
areas at area lakes, contact the City of Garnett or the Garnett Area Chamber of Commerce.
HUNTING & FISHING: Fishing is allowed along the trail while complying with state license requirements. Fishing at either Lake Garnett Park or Crystal Lake in Garnett requires an additional city fishing permit in addition to complying with state license requirements. Hunting is prohibited on the trail corridor and it is unlawful to have air guns, slingshots, bows, crossbows or firearms in your possession while on the trail.
TRAIL SAFETY: Trail users must follow all safety rules and regulations posted at trail heads, permit stations and along the trail.
*Be alert for possible changing trail and weather conditions. Soft spots, erosion, road crossings and steep trail shoulders may occur and may not be marked.
*Trail traffic should stay to the right and pass to the left.
*Cyclists and rollerbladers are encouraged to wear helmets.
*Wildlife should be viewed and not handled.
*Alcoholic beverages are prohibited on the trail at all times.
TRAIL MILEAGE:
*Ottawa, 23rd St. to Princeton, John Brown Road: 6.0 miles
*Princeton, John Brown Road to Richmond, Butler Road: 7.0 miles
*Richmond, Butler Road to Garnett Depot: 9.4 miles
*Garnett Depot to Welda: 8.3 miles
Come visit us in Garnett, Kansas