category : Arts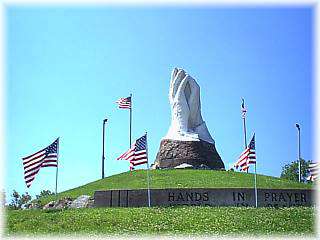 Nestled in the small Midwest town of Webb City, Missouri, the Heartland of America, stands the Praying Hands Memorial. Its stately vigil of more than twenty years is a silent testimony of the need for individual reflection and commitment.
In 1971, Jack Dawson, a 20 year old college student, approached the Webb City Park Board and the Historical Society about an art piece he wanted to build in the city's King Jack Park. They not only approved and authorized the "Praying Hands" placement in the park, but they encouraged local citizens and merchants to help fund the project. To this day, the upkeep for this memorial is primarily funded through private donations.
Dawson began the work in his own backyard creating a steel understructure covered with a metal lath. Curiosity would best describe the first attention he received as local residents saw this sculpture which some said looked like a gigantic bird cage.
When the steel framework was ready in the fall of 1972 for the white stucco covering, the large hands were lifted out of their quiet surroundings and taken to their destination...a mound in King Jack Park on Highway 71. Now attention would be drawn to them from all over the world as people passed by and found themselves suddenly viewing the 32 foot, 100 ton reminder of the simple but profound act of prayer.

Admission: Free
Hours: Daily
Address: Miner's Park, Hwy 71, MacArthur Blvd
Our Website:www.prayinghands.org/

Come visit us in Webb City, Missouri