category : Historic Churches
This historic church building was built in 1887 after the previous church had been destroyed by a tornado.



Address: 200 N Summitt
Several area churches are also nearing their centennial.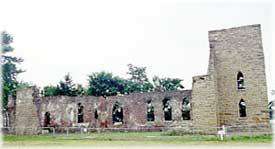 St. Aloysius Church
St. Aloysius Church in Greenbush, 7 miles west of Girard on historic Mission Road/Highway 57, was built in 1881. It was begun as a mission in 1869 by Father Phillip Colleton, S.J. as the fulfillment of a pledge made by a Pioneer Priest. Currently it is a religious museum and center for community activities. It is listed on the Kansas State Register of Historic Places.
You will also be able to view the beautiful ruins of the 1902 church and cemetery.
Come visit us in Girard, Kansas