category : Historic Sites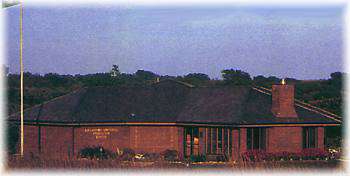 Rock Creek Station State Park is a Pony Express and emigrant station where James Butler Hickok gained his famed name, "Wild Bill", when he shot and killed the station attendant, D.C. McCanles, in 1861. Visit the museum and interpretive center and see the brick murals made by Endicott Clay Products Co. See the log buildings, Oregon Trail ruts, picnic grounds, campgrounds, and nature trail. Ride in a covered wagon behind oxen and see the blacksmith at work. You will delight in the scenery and enjoy the beautiful and modern campground.

Rock Creek Station might have faded into obscurity, like so many other stage and Pony Express stations, except for one fateful day in 1861. On that July afternoon, one James Butler Hickok killed David McCanles there and began his bloody career as a gunfighter.

Today, Rock Creek is a state historical Park, being developed by the Nebraska Game and Parks Commission. It encompasses some 350 acres of prairie hilltops, timber-studded creek bottoms, and rugged ravines and draws about 6 miles southeast of Fairbury, off of Nebraska Highway 8. Deep ruts, carved by the many wagons that traveled the Oregon Trail, are plainly visible there. They bear mute testimony to the rich history of the area.

Established in 1857 by S. C. Glenn, Rock Creek Station evolved from a small cabin with a lean-to and barn, situated on the west side of Rock Creek. This road ranch catered to stages, freight lines, and emigrant traffic on the Oregon Trail. The lean-to was set up as a primitive store, where hay, grain and supplies could be bought, sold or traded.



Development of Rock Creek Station as a state historical park began in 1980. Archaeologists investigated and excavated sites at both ranches to determine building sites and to recover period artifacts. Development is still under way on the reconstruction of the buildings and corrals on both the East and West ranches. However, visitors will find an excellent interpretive center, picnic and playground areas, hiking and nature trails as well as a modern campground on an adjoining tract. Rock Creek Station is open year-round.




Modern Facility with showers and electricity. Tent, motor home and horse camping.
Rates: $11.00 with electricity - $7.00 no electricity (Horse area)
Off season: $6.00 with electricity - $3.00 no electricity
Nebraska park permit: Daily $2.50, Annual $14.00, Duplicate
park entry permit $7.00 (Additional vehicle)
Picnic Shelter reserved for $25.00
Visitors Center open Sat. & Sun. 1:00-5:00 p.m. 7 days/week from April 14, 2001-May 1, 2001
9:00 a.m.-5:00 p.m. Daily May 1-September 23 (closing date approximate)
1:00-5:00 p.m. Sat. & Sun. September 23-October 28
Showers open April 14 to October 31
(402) 729-5777

Come visit us in Fairbury, Nebraska