Roseville Holiday Craft Fair
Starting date:
Ending date:
Event# 651-765-4262
Event Details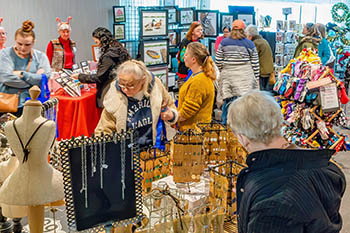 The 17th annual Holiday Craft Fair is virtual this year! While it's not "business as usual" at Roseville City Hall the first weekend of December, this year it's online only. From November 27 through December 31 our website, https://HolidayCraftFair.com, will feature listings for dozens of crafters, some "regulars" and some "new," most local to the Twin Cities.

Each vendor listing includes a description and pictures of their of products plus contact information such as website, Etsy shop links and social media links, email addresses and more. The listings make it easy to connect with these fine crafters, all selling fabulous handmade goods that are perfect for holiday giving (to others, or to yourself!). You'll find fabric, yarn and mitten makers, jewelers, photographers, food vendors, and much more. And best of all, you can peruse these webpages 24/7 and in your jammies!

The Holiday Craft Fair is put on by volunteers from the Harriet Alexander Nature Center (HANC); all vendor fees go to HANC to support environmental education programs. For more information about the event, including a list of participating crafters and a gallery of some of their work, go to HolidayCraftFair.com. For more information about the nature center, please call (651) 765-HANC (4262) or visit CityofRoseville.com/HANC.
Roseville Holiday Craft Fair
Address :
Roseville City Hall, 2660 Civic Center Drive
Roseville
MN
Phone :
651-765-4262
(Always call and confirm events.)
Web Address :
http://holidaycraftfair.com/
Admission Fee :
Free admission
Craft Shows
Attractions and Upcoming Events
Things to do near Roseville, MN