Roseville Holiday Craft Fair
Starting date:
Ending date:
Event# 651-765-4262
Event Details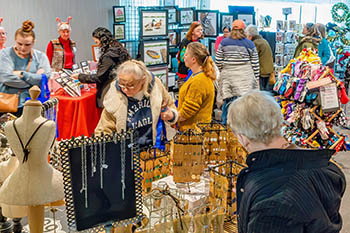 Spread out over two levels, the annual Holiday Craft Fair features more than 50 local crafters and artists selling all-handmade wares, perfect for holiday giving. Items include soaps and balms; natural stone, fused glass, beaded and other fine jewelry; photography; pottery; knitted items; fine chocolates and delicious jams; pure maple syrup, and so much more

The Holiday Craft Fair is put on by volunteers from the Harriet Alexander Nature Center (HANC); all vendor fees go to HANC to support environmental education programs. For more information about the event, including a list of participating crafters and a gallery of some of their work, go to HolidayCraftFair.com. For more information about the nature center, please call (651) 765-HANC (4262) or visit CityofRoseville.com/HANC.
Roseville Holiday Craft Fair
Address :
Roseville City Hall, 2660 Civic Center Drive
Roseville
MN
Phone :
651-765-4262
(Always call and confirm events.)
Web:
holidaycraftfair.com/
Admission Fee :
Free admission
Craft Shows
Attractions and Upcoming Events
Things to do near Roseville, MN