category : Monuments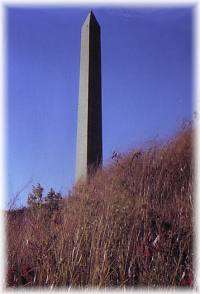 On July21, 1804, when the Corps of Discovery was near the Council Bluff, Sergeant Charles Floyd wrote, "I am verry Sick and Has been for Sometime but have Recoverd my helth again..." Although he did not mention his health again, Floyd did not really improve and, on August 20, he died near present-day Sioux City, probably of appendicitis. Buried atop a bluff overlooking the Missouri, Floyd was the first American soldier to die west of the Mississippi River and was the only member of the Lewis and Clark's Corps of Discovery to die during its entire journey. On September 4, 1806, as they returned east, the men found Floyd's grave had been partially opened so they filled it with more dirt.
This 100' high stone obelisk marks the grave and memorializes Sgt. Charles Floyd. Overlooking a breathtaking view of the Missouri River and the tri-state area on Highway 75, it is the first historic landmark registered by the U.S. Government in 1960.

Address: Accessible via I-29, exit 143, go east to U.S. 75, and then north about two miles.

Come visit us in South Sioux City, Nebraska