St. Paul, Nebraska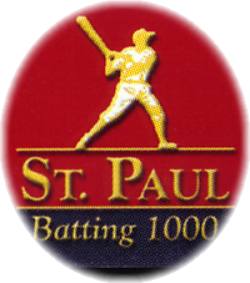 Some Nebraskans played with legends of the game, others are legends of the game.
St. Paul's own Major League Hall of Famer, Grover Cleveland Alexander "The Great," and four other Nebraskan baseball greats have extensive career displays at the Museum of Nebraska Major League Baseball. The museum includes something on each of the more than 130 players with Nebraska ties who have made it to the big show. In addition, The Historical Village consists of seven exhibits which display a wealth of artifacts from county history. A visit to the village is a graphic portrayal of the progress the community has made through the past century, and a challenge to continue that growth through the next 100 years.
St.Paul, on the military road, was a supply stop for all north-south travel; stage coaches, wagon trains, and cattle drives. By 1880 the population reached 800. There were several hotels, saloons, and doctors in addition to the usual frontier town businesses, plus a good brickyard. The railroads, both Burlington and Union Pacific, reached St.Paul in the 1880s.
Frank Iams came to St. Paul from Iowa early in 1882, bringing several prize stallions. During the next 35 years he became well known as an importer of the French and Belgian draft horses. In 1910 he imported the largest single shipment, for which he hired a special train that ran straight through from New York City to St.Paul. World War I put an end to importations and after the war, most farmers were using tractors.
St.Paul, with a current population of over 2,000, has an excellent library, an active art guild, a theater guild offering dinner-theater productions, and a community chorus which presents Christmas and Easter concerts. A children's theater gave its first performance in 1987. A well-kept park and picnic area, the municipal swimming pool, the Grover Cleveland Alexander Baseball Park, and the St.Paul club offer ample opportunities for recreation. The Chamber of Commerce also sponsors a flea market in June and "Grover Cleveland Alexander Days" in July.
St.Paul is fortunate to have a 36-bed hospital, two doctors, several dentists, and an optometrist. The Heritage Living Center provides a care-home with facilities for 72 residents, and Parkside Plaza and Parkside Annex offer low-cost housing. A senior citizen organization's new downtown building has space for meals, meetings, and activities.