category : Historic Churches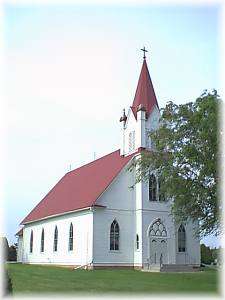 While other county communities have no museum, some historic places are still making memories by preserving the past and serving future needs. In the summer of 2000, the Stockholm Swedish Lutheran Church celebrated its 125th anniversary. Named after the Swedish capital and built by Swedish immigrants in 1900-01, this country church is listed on the National Register of Historic Places.
The red rooftop and 70 foot steeple of this old country church can be seen for miles. In the early 1870s Swedish settlers from Illinois, other eastern states, and Sweden arrived and became the first to organize a congregation in this township in 1875, when they met in the O.G. Bergquist home. The congregation grew rapidly during the 1890s despite drought and rasshopper problems.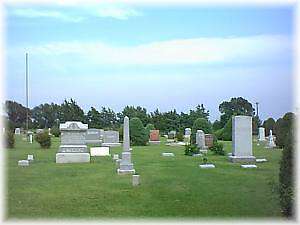 The present church was built in 1900 to replace the 1881 building, which had become too small. The Bergquist home is still occupied and located only a few miles west of the church. The congregation continued to use the Swedish language occasionally until 1937.
The cemetery was organized in 1878.

Address: Highway 74, west of the village of Shickley

Come visit us in Shickley, Nebraska