Stockton, Kansas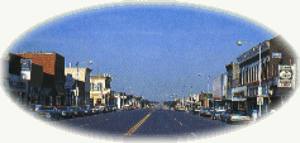 Small Town Living at its Best Nestled in the valley of the South Fork of the Solomon River at the junction of U.S. Highways 24 and 183, Stockton residents enjoy the peace and quiet of rural living without losing the urban amenities. In addition to its scenic location and its pioneer heritage, Stockton has several features that make it unique.
Stockton, with a population of just under 1,500 people, offers a slower-paced, relaxed lifestyle. Children still ride bikes all over town, neighbors still sit on porches to enjoy quiet evenings, it's small town America at its best. For those who might like to de-stress their lives, Stockton is a wonderful place to call home. Whether it's to retire, own a business, or raise a family, Stockton is a great place to grow.
Stockton is located within an hour's drive of six large man-made lakes with over 40,000 acres of public hunting area. In the immediate vicinity are Webster State Park and Reservoir and Kirwin Reservoir. These facilities offer camping, fishing, hunting, and other outdoor activities. The entire area abounds with pheasant, quail, deer, and wild turkey making this a hunter's paradise each fall.